The Toe River Arts Council in Burnsville, NC has been hosting this plein air competition every May for nine years now. As usual, I brought my rain jacket and umbrella because every time I've visited this town, I seem to get rained on. Rain or not, though, it's a beautiful place surrounded by an incredible landscape.
This year, I was very honored to have received 2nd place in the competition. Below are my 2 paintings of the day. (I didn't paint as many this year…I waste too much time driving and exploring)
Here's my first painting that morning after checking in. This horse barn was found on Green Mtn. Road just around the bend from the library there.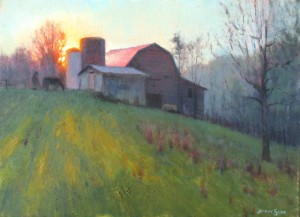 After lunch and more exploring, I headed up Hwy. 80 toward Mt. Mitchell. Here's the scene I found just outside of town…and of course, I got rained on.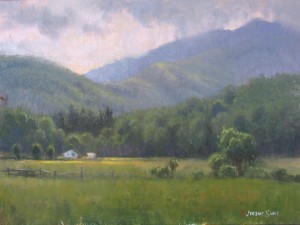 This is a view off the side of the road looking toward Celo Mtn. I loved those rain clouds hovering over while the sun peeked through and lit up parts of the ascending mountain and meadow. This painting took 2nd place…Thanks to this year's judge, John Mac Kah for the honor!
If you're interested in pricing and availability of these paintings, feel free to Contact Me.