October…the most beautiful time of the year! During the month of October, especially around the 2nd weekend, people from all over flock to the mountains of North Carolina to observe and relish in God's wonderful display of color. I was fortunate enough this year to make my pilgrimage as well.
Below are a few of my plein air pieces from the trip: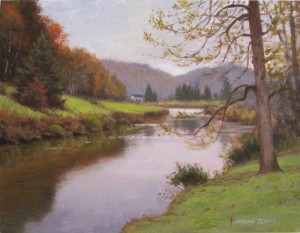 This was my first painting of the trip. It's a view of a nice little area at Fleetwood Falls. It was a bit rainy and misty that day.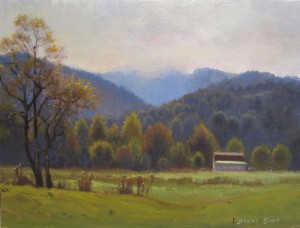 I was privileged to paint along side of a few other talented artists during the trip. This is a view in Valle Crucis, NC. It was a beautiful spot looking across the meadow while the fog lifted from the valley. The trees were backlit creating this beautiful glow of color. Thanks to Kathy Myers Reece for inviting me to paint with their group.
Below is an evening view looking across Dutch Creek on the same property: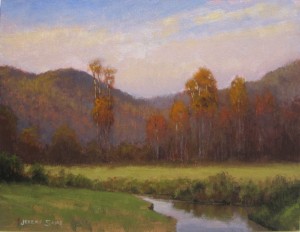 Again, I was blessed to paint along side my good friend and fellow artist, Scott Boyle. Here are a couple of paintings from the day: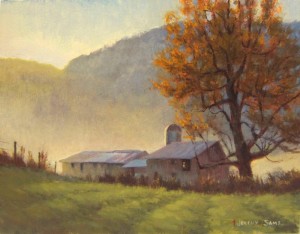 We found a gold mine of painting spots on Worth Mcneil Rd. in Fleetwood, NC. I loved the glowing orange leaves in front of the warm lifting fog along with the irregular roof patterns on the barns below.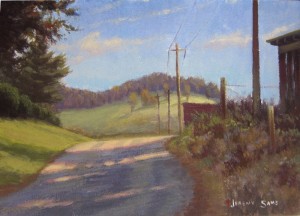 Now this was a treat to paint. Scott and I challenged ourselves to simply turn our easels 90 degrees to the left and paint the scene before us within 45 minutes. Well, For composition purposes we left out the long barn that was smack dab in the middle of the painting…with its long rectangular shape, it looked like we found Noah's ark. So, we used our artistic license to remove that monstrosity. I did get most of this completed in 45 minutes, however, I added the clouds when I got home.