I'm still back-peddling, trying to catch up my updates from this past summer's plein air endeavors…one of which took place in late July at the Howard Street Exchange in Boone, NC.
I was honored to have received 1st place in the event as well as meet some new upcoming artists from the area.
The weather was not as friendly as could be, but that's sometimes your lot while painting en plein air. Below are my paintings of the event:
Here's my first painting looking up Howard Street just before all the rain came.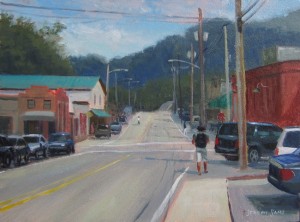 Here's my winning piece:
This view was painted looking up King Street near a little salon with the interesting little planter on top. I had to position myself and my easel under a small awning to avoid the rain.
Thanks to the guys at the Howard Street Exchange who organized the event!
If you're interested in a plein air painting or a commissioned painting, feel free to contact me.