Well, I'm pleased to announce that I have new representation in the mountains of beautiful North Carolina… The Alta Vista Gallery in Valle Crucis!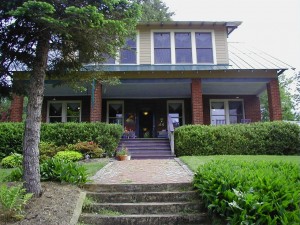 After a year or so of emails, visits, and phone conversations, we finally sealed the deal. It's a quaint little gallery right across the street from the Mast Store Annex. Mrs. Maria Hyde does an excellent job of running the gallery and entertaining customers. The gallery is full of beautiful art and now I'm honored to have my work hang there as well.
After our meeting on Monday, I decided to do a little plein air painting. You just can't drive up from Archdale to the mountains and not expect to find something to paint!…especially in this area. Everywhere you turn there's paintings!
So, it was about 4 pm and I knew I had to be quick…the light's fading rapidly, it's getting colder, and I have a 2 hr. drive back home. After scanning the neighborhood for a few minutes, I finally planted my pochade box and tripod on a rock on the banks of Dutch Creek looking back at Mast Store Annex. The light was just right with its golden hues casting these cool bluish shadows on the white building. Those shadows along with that bright red roof just screamed to be painted. So, I did!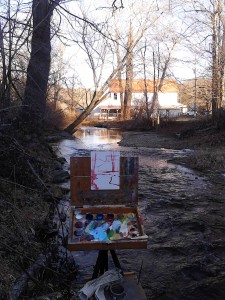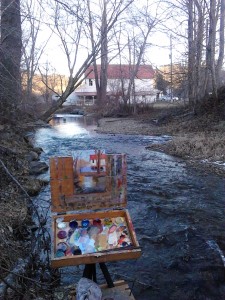 I could feel the temperature dropping by the second, it seemed…my hands getting a little numb, cheeks getting rosy, ears getting nipped (I forgot my toboggan)…and light is moving fast. Fast moving evening light when accompanied by the need to pee (Thanks to the constant bubbling creek and being cold, with no restroom nearby which is a sure fire recipe for your bladder being full) is great motivation for painting quickly. By 5:20 I'm packing up and heading home!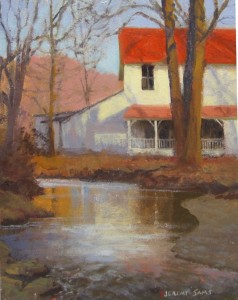 Be sure to stop in and see Maria at the Alta Vista Gallery whenever you visit the Mast Store Annex and its tasty candy shop…it will be worth your time! You can view a map and directions on the gallery's website here: www.altavistagallery.com