Jeremy Sams is an award winning representational artist residing in Archdale, NC. He was born in 1977 and his childhood consisted of spending lots of time in the woods of the Uwharrie Mountains and playing in and along the banks of the Uwharrie River in the southwestern portion of Randolph County, NC. He became interested in art at a very early age, winning his first art competition at the age of 6. At age 15, he took his first art class where he was introduced to painting. His love for painting sparked a new change in his life and the beginning of a career was birthed by commissioned portraits and murals from the local community. Through these small art endeavors and apart from formal training, Jeremy was able to begin a professional art career at the age of 19.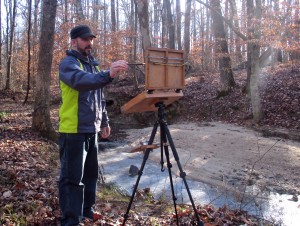 Jeremy's primary subject matter is landscapes while working in acrylics. He also loves the challenge of portraits and his work varies in size from just a few sq. inches to murals measuring upward of 40'x60'.
His artistic growth took on a new form in 2011 when he was introduced to painting en plein air. This same year, he and his wife mourned the death of two children. Through this trying time, Jeremy found new inspiration and healing through painting outdoors en plein air. "Painting en plein air has become a means of therapy and release of emotion for me...Here, I can enjoy God's creation and relish in the beauty He has given us to enjoy in this short life."
Jeremy's personal inspirations come mostly from the play of light and atmosphere and their effects on objects and landscapes. His most favorite areas of subject matter are the rolling hills and mountains of North Carolina along with its waterways, and special array of trees and meadows. It's not uncommon to see Jeremy with his outdoor easel set up on the side of the road or on a river bank somewhere with brush in hand.
Jeremy was a featured artist in the February-March 2017 issue of "Plein Air Magazine".
Jeremy is currently a member of the North Carolina Plein Air Painters,  Triad Outdoor Painters,  Charlotte Plein Air Painters and Plein Air Carolina. He is also the founder of the Fellowship of Plein Air Painters.
Jeremy is currently represented by the Alta Vista Gallery in Valle Crucis, NC, The Art Shop in Greensboro, NC, and the Spectrum Gallery in Wilmington, NC.
Jeremy's artist statement:
As a representational artist who works in acrylics, my primary goal is to capture on canvas the wonder and awe of God's creation along with the scene's emotional impact. In order to achieve this, it is of utmost importance for me to spend time studying and painting the particular scene on location, en plein air: to experience the sounds, the smells, the cool breeze or the humid air, and the movements of wind and shadows. All of these elements play a role in the emotional reaction we may have to a particular place. I'm most often moved by the dance of light and shadow in a scene along with the varying  color temperatures in the atmosphere that fills the space between the object and myself.
I try with every finished work to maintain the integrity of the scene, while at the same time, breathing life into it. The challenge is often not to recreate every little detail, but to merely offer a suggestion so as to not lose the primary focus. If I can do this and achieve a desired emotional reaction within the viewer, then I consider it a successful painting.
Jeremy's awards include:
People's Choice Award, NRCC Art Gala, Raleigh, NC, 2018
Best Nocturne Award, Bath County Plein Air Festival, 2017
Plein Air Magazine Award, Solomon's Island Plein Air Festival, 2017
Gold Award, Floyd Plein Air Festival, 2017
1st Place Toe River Plein Air Competition, Burnsville, NC 2017
1st Place Kinston Plein Air Competition, Kinston, NC 2017
1st Place Fuquay Varina Plein Air Competition, 2017
Best In Show CCA National Competitive Exhibit, 2017
2nd Place Toe River Plein Air Competition, Burnsville, NC, 2016
1st Place Kinston Plein Air Competition, Kinston, NC, 2016
2nd Place Fuquay Varina Plein Air Competition, Fuquay Varina, NC, 2016
1st Place Toe River Arts Juried Competition, Spruce Pines, NC, 2015
1st Place Stone Mountain Paintout, Stone Mountain, Ga., 2015
Purchase Award, Stone Mountain Paintout, 2015
1st Place Piedmont Paintout Plein Air Competition, High Point, NC, 2015
Honorable Mention, NC Open Plein Air Paint Out, Salisbury, NC, 2015
Artist in Residence at Edgewood Cottage, Blowing Rock, NC July, 2015
1st Place Cary Plein Air Competition, Cary, NC, 2015
2nd Place Burnsville Plein Air Competition, 2015
1st Place Jacksonville Plein Air Competition, 2015
Best in Show, Beauty In the Dark Exhibit, Overland Gallery, 2015
Voted "Randolph County's Favorite Artist 2015" in Creative in Randolph Competition
Viewers' Choice Award, Piedmont Paintout, 2014
1st Place Howard Street Exchange Plein Air Competition, Boone, NC 2014
1st Place Cape Fear Arts Studio 2D Competition 2014
3rd Place Toe River Arts Council's Plein Air Competition 2014, Burnsville, NC
1st Place Kinston Plein Air Paintout 2014
1st Place Charlotte Garden Tour Plein Air Paintout 2014
Honorable Mention, Kinston Plein Air Competition, 2013
Third Place Award, Fuquay-Varina Plein Air Competition, 2013
People's Choice Award, North Ridge Country Club Art Gala, Raleigh NC, 2013
1st Place New River Winery Plein Air Competition, Landsing, NC, 2012
People's Choice Award, Banner Elk Plein Air Competition 2012
Honorable Mention ,  Yadkin Arts Juried Competition, 2012
Albert Bierdstadt Honorable Mention, Toe River Arts Council Plein Air Competition 2012
1st Place Kinston Plein Air Competiton 2012
Honorable Mention, Mooresville Plein Air Competition 2012
Cauble Creek Vineyards Artist Invitational Winner, 2011
1st Place,  Banner Elk Plein Air Competiton, 2011
Paul Green Multimedia Award, presented by the North Carolina Society of Historians, Inc. 1998
Randolph County Superintendant's Choice Award, 1995
Jeremy's artwork can be seen in art galleries, churches, homes, businesses, and restaurants. His work ranges from portraits on canvas, landscapes, still-lifes, murals on walls, ceilings, floors, faux finishes, and even furniture. Acrylic and latex are his preferred medium.
If you'd like to speak directly to Jeremy, feel free to call (336)434-1172
or email: jeremy@jeremysams.com