On April 16-18, 2015, artists gathered in Jacksonville, NC to participate in Jaxart's first plein air competition. True to the nature of plein air painting, and Murphy's law, nasty weather just had to be  in the forecast. So, I got up early and made the 3 hour trip to Jacksonville, home of the Marine base, Camp Lejeune…hoping the rain would hold off for a little while.
I was fortunate enough to arrive with clear skies and was able to paint this scene before the rain moved in: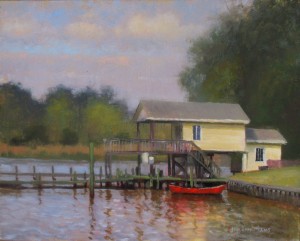 Later that day, I found this little yacht club located on the New River. It had this little old shack with several boats docked. The shack was old and weathered, and I found out that it's the last operating fish house left on the New River. Lucky for me, the owner and his grandson came out while I was painting to see if any fish were biting. it gave me the perfect opportunity to give this dreary overcast scene a little life.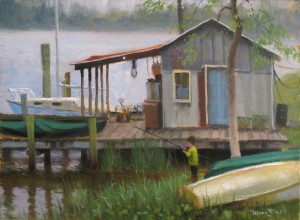 I was very honored that his painting ended up taking 1st place in the competition!
Jacksonville is not just a city with marines and fishing boats, it also has plenty of other subject matter to paint…especially if you like azaleas in the spring time! I tried to paint a close up of one and it totally bombed. So, I wiped it out and started a new one. I wasn't pleased with the direction it was going, so I ended up not finishing it.
I did get a painting completed of this huge oak tree located beside Sturgeon City and an old cemetery. I began the painting in the rain, and then the sun popped out for about 45 minutes. So, I tried to capture that effect. Here's the end result: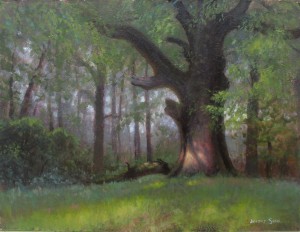 Overall, it was a great event…even though the weather wasn't exactly as cooperative. It was still nice to be with old friends and make new ones!