Hot August days means you have to sometimes do your painting at night. Creekside Park in Archdale, NC is a favorite place of mine for finding subject matter to paint…you have the Muddy Creek which runs through the park with its walking trails, a frisbee golf course, and a playground for the kids. I also love the street lights lined up on one part of the walking trail. This was my subject matter for the painting.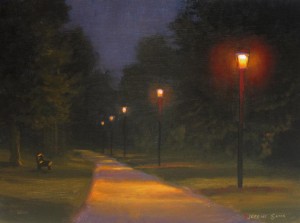 I positioned my pochade box under a street lamp and attached my 2 "Mighty Bright" book lamps to my box. Both were positioned to shine on my palette and my panel. The bluish LED lights seemed to balance out the yellowish light from the street lamp.
It was a somewhat muggy night which made for nice glows around the lights. If you ever paint at night under the lights, don't forget the bug spray…otherwise, you become supper for all the pests.