It seems like forever since I've seen the ground covered by white blankets of snow in this area. I remember when I was younger all the snowball fights and sledding we got to do, and how hard it was to walk through the deep snow. Maybe those memories are just due to me being a child and everything seems bigger, or maybe the snowfall's just not been that good lately.
In any case, in the past few years, snow has been scarce here and I've so desperately wanted to paint it. Well, I finally got my chance! below are some of my latest snow adventures: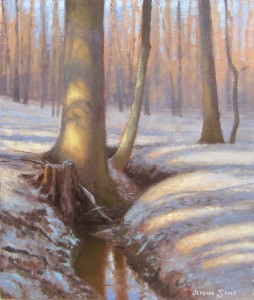 "Early Morning Powder" is a plein air painting of a little fair weather stream located in the woods behind my house in Archdale. It's a very quiet place and this was a cold, quiet, sunny morning with just about an inch or so of snow covering the ground. The glow of light that decorated the slope of the terrain and shadows was so appealing that I had to attempt to capture it.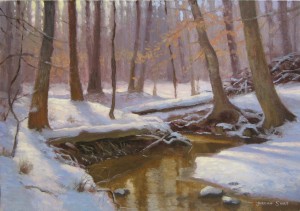 This is another favorite place of mine to paint near my house. I've always loved the interconnections of the roots of the trees on the creek bed. I especially was drawn to the reflected light on the fallen log…it's those little aspects of light that can really add interest to a painting.
Just before Valentine's Day, we got a good snow storm come through the area. I had to make an emergency run to Walmart early in the storm. A normal trip for me to walmart takes about 10 minutes. This trip took about 2 hours.
After leaving Walmart, I was diverted by the in-panic-mode traffic to take a different route home. It was just my fortune to get behind a couple of vehicles who had stopped while driving up a slick hill…which in turn forced me to come to a hault…on ice. So, after a few minutes of trying to maneuver my spinning VW up a hill, I decided to back it into an apartment complex parking lot, and just walk home. Thank God for the spare gloves in the car!
I took with me the merchandise I bought for my wife and headed home. Unfortunately, I had to leave behind my trusty "Shade Buddy" painting umbrella. Which led to the make shift pochade box cover you see below. Sometimes you just have to improvise to get some painting done.
The temporary cover consisted of a poncho, 2- 24″ stretcher bars and some clamps. it worked great, and for the most part, kept the falling snow off my palette. Snow and acrylics are not a fun combination. the clear poncho allowed the light to filter through so I could still see my panel clearly.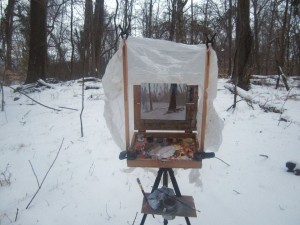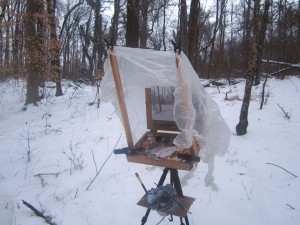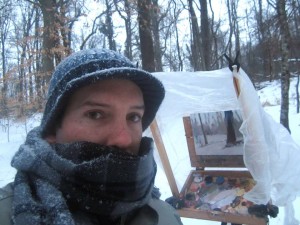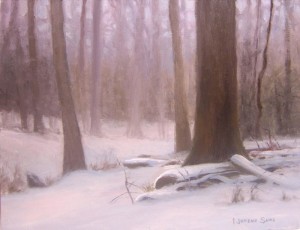 The next morning I went out again to paint and settled on this creek scene below. It was an overcast day to begin with which allowed you to see the trees in their true color. it was amazing to see all the cool greens and blues in the bark of the trees. After starting the painting…more snowfall…big beautiful flakes floating down from the sky…a wonderful experience. I can't think of a more peaceful setting.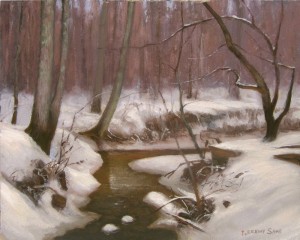 Below was my last snow painting venture, just down the street from my house.