New Years resolutions are always tempting to make. We get these big ideas of all types of self improvements that we want to accomplish for the upcoming year. Of course, there's nothing wrong with that…I just get tired of making them Jan 1, and forgetting them by Jan. 14th.
However, there's one way of living that will always be beneficial: consistency.
No matter what area of your life, whether artistically, physically, emotionally, or spiritually, you can't go wrong with just being consistent. We're told in Galatians 6:9, "Let us not lose heart in doing good, for in due time we will reap if we do not grow weary."
The spiritual principal here is don't give up on doing good…we'll reap spiritual blessings if we don't quit. This same principle can be applied to other areas of our lives as well. For me, if the Lord wills, I will continue to learn the art of painting in hopes of growing as an artist…no matter if every painting doesn't turn out to be a "winner", or maybe a few paintings will be so bad that they get a fresh coat of gesso. No matter how good or bad the day's painting goes, we'll just keep painting. The end results will be well worth it.
I was blessed to start the new year off with some plein air painting in the woods behind my house. It's a favorite area of mine to visit. Below are a couple of pics of this morning's effort: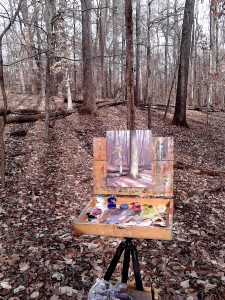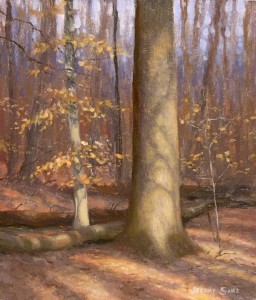 I hope you all have a blessed New Year!