Cabin fever… winter's way of having a good laugh at your expense. It's as if winter was paying you back for all those nice spring and summer days you spent outdoors having a great time. If you live in any kind of a cold climate, you've probably experienced it. Lately, I've had it bad!
I'd been confined to my home studio painting Christmas commissions (of which I'm extremely grateful) for a month or so… Slowly, I could feel this fever rising up in me. Clear mornings, golden highlights from the morning sun, and cool shades of purple and blue in the shadows, served only to make the fever rise even more. Every now and then, we'd get an unusually warm day, and of course, that made things worse. So, when the opportunity came, I had to seize it!
My good friend and fellow artist, Bernie Rosage, invited me to paint with him near Todd, NC. Luckily for me, I was scheduled to meet some clients in Blowing Rock the same day, so thank the Lord, I would finally get my opportunity go paint in the open studio…the great outdoors!
Below are a few pics capturing that cold day: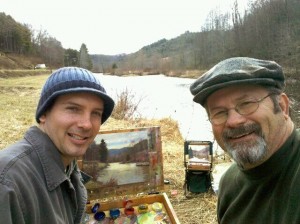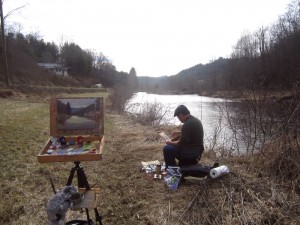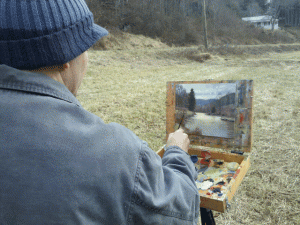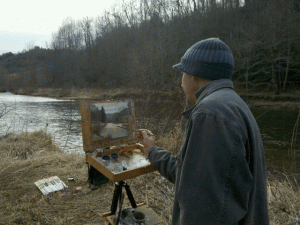 After a couple of hours of enjoying the crisp NC air, we headed back to Bernie's folks' cabin at Fleetwood Falls for some warm chilli and good company! Thanks Rosage family for being such great hosts!