Every year, the Toe River Arts Council invites artists from all around to come to Burnsville, NC to capture the surrounding mountain landscapes. This is an incredibly beautiful area with lots of attractions close by such as, Mount Mitchell along with waterfalls and rushing rivers. The rural farm scenes are pretty incredible as well, looking like places straight from a storybook. This would be my 3rd year in attendance and I always look forward to going and seeing old friends and meeting new ones. This year I was honored to receive 3rd place for my painting "Morning at the Woodshed".
As beautiful as this place is, the weather isn't always as cooperative. For the past 2 years I've painted here, the rain has always found a way to offer its own challenges. For that reason, I don't leave home without a poncho and my shadebuddy umbrella. Below are some of my paintings for the day:
This first painting was a little farm I found on Pine Swamp Rd. The owners built this neat old place with their own hands and it has remained in the family for a couple generations. I drove past it first while scouting out a painting spot. I knew if there was nothing down the road, I needed to paint this place with its mountainous architecture and the morning sun beaming across. after driving down the road to a dead end, I hurried back and got to painting.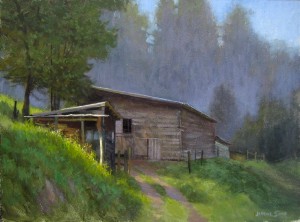 My next painting was painted of the Cane River off of Pensacola Rd.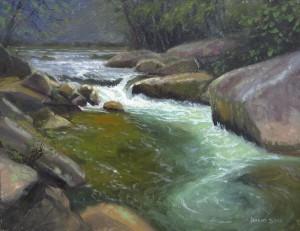 Contact me for pricing and availability of these paintings.
Thanks to the Toe River Arts Council for always making this a great event!